Today, it just so happens that the brands Singaporeans love are on sale at 6pm.com. For those of you who do not know, I spent 15 years in Singapore and attended an all girls' school for 10 years till I was 16. My grandmother still lives there and my little brother is a clerk in the army for the next 2 years. From the preferences that my Singaporean friends displayed around me, I found that they love Oakley sunglasses and Jansport bags (both of which are too "manly" for my preferences).

Of course, Oakley sunglasses are loved by Americans too (chibi's brother had a formidable collection at some point with the likes of "Romeo" and "Juliet" sunglasses and what not). If you don't already know why Oakleys are the go-to brand of sunglasses for Singaporeans and people who want to look stylish while playing sports, scroll down below for an explanation...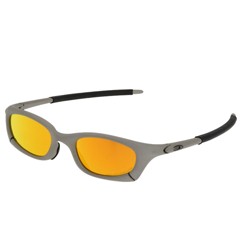 Oakley Mag Four $113
50% off MSRP $225.00
Oakley Razrwire™ NBT $88
50% off MSRP $175.00
Oakley Razrwire™ NBT $83
50% off MSRP $165.00
The Mag Four is made out of a magnesium alloy frame and provides 100% UV filtering and impact protection.
The more expensive of the Razrwire NBT has Bluetooth capability with detachable frame, while both of them are made from O'Luminum which weighs 40% less than titanium. They also completely filter out UV while optimizing impact resistance.
Other sunglasses and frames are also available for sale (click on link below).
From Monday 5/4 to Sunday 5/10: THIS WEEK! All Oakley Sunglasses, up to 50% off!
On the other hand, Jansport was widely used in Singapore as a school bag, travel bag, even an everyday bag for some. It is also very popular among the teenagers in Taiwan because of its bright colors and youthful prints.
JanSport Superbreak $16
60% off MSRP $40.00
This is an example of what youngster loves to carry around. I can't say I understand why except for the fact that it's pink and has cherries on it. Other prints and colors are also available in this style.
JanSport Dreamer Livewire BT $144.90
42% off MSRP $249.90
The Dreamer Livewire BT is a higher end backpack (as you can tell from the price). It is wired for iPod compatibility, and integrated with Bluetooth technology. Moreover, it has special AirCore shoulder straps that are more comfortable, and a sturdy, clamshell-opening on front compartment so that it can fall off from a shelf and the bag's contents will not be damaged. Naturally, there has to be a padded laptop computer sleeve for extra safety, and quick access pockets for cell phones or other essentials. There is only one of this left, so hurry if it's what you want. I wish my school backpack back in the days was this sturdy!
JanSport Elefunk $26
60% off MSRP $65.00
The female (lavendar) and unisex version of the Elefunk is another example of JanSport's functionality. There is a file divider in the main zippered compartment, 2 corner storage compartments, side mesh waster bottle compartment, one front drawbridge compartment with organizer, and exterior zippered pocket. It's for the seriously organized! And it looks good. Much cheaper than a Crumpler, this is definitely something to consider if you have to carry a lot of files + laptop around.
See more JanSport styles on sale by clicking the link below:
Friday 5/8 - Sunday 5/10 - Jansport, all styles 60% off!